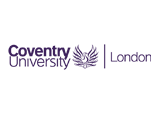 Coventry University London
Congratulations on your achievement!  Remember your special day with a commemorative film and share it with family and friends who couldn't be there.  It covers the entire graduation ceremony and captures your moment centre stage.   
A digital download is available and can be ordered at any time.  Due to post production requirements it will not be available to download immediately and could take up to 28 days after the ceremony.  A link will be emailed to you once it has been uploaded onto our system.
USB Keys are available on the day at your event, however, in an effort to reduce our carbon footprint, we would encourage you to purchase a digital download, this will lessen the impact on our beautiful planet.