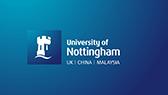 University of Nottingham
Congratulations on your achievement!  Remember your special day and share it with family and friends who couldn't be there.
A Digital Download provides full coverage of your graduation ceremony in high definition and captures the centre stage moment, of you collecting your award. USB Keys will also be available from our sales desk to take home after the ceremony. 
In an effort to reduce our carbon footprint, we would encourage you to purchase a digital download, this will lessen the impact on our beautiful planet.
If you are unable to order from our online system, please visit our sales stand at the event where we will be taking orders. You will find us located on the ground floor in the East Midlands Conference Centre.